Server Management
We'll manage your servers so you can focus on your business.
Our server management expert team can help you manage your critical infrastructure 24/7 without the need to hire in house experts. you can leverage on the skills of our server management team.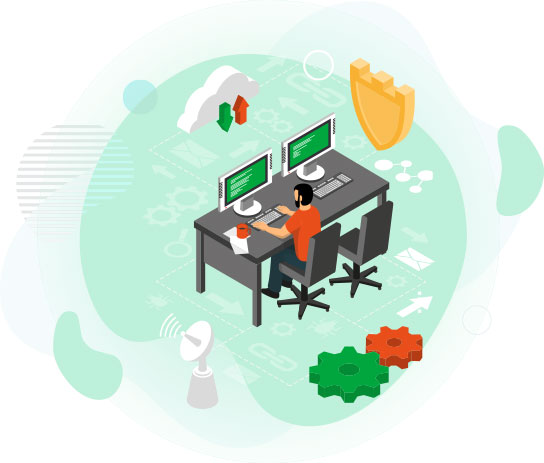 Server Management is our passion
Our server management team can help you get started, audit your existing server to tweak it and ensure you server infrastructure stays up to date and ready to deliver high level of performance. Our server management team monitors all servers proactively 24/7 and fixes any issue encountered immediately.
Server Management
Our team at Digital Host provides the very best in server management solutions. Leave your management to us and focus on your core business.
Corrupted RAID recovery
Digital Host will rebuild your software or hardware RAID in the event of corruption.
Infected Website Recovery
Regular backups mean you always have peace of mind. And, we'll manually clean your infected site if backup is impossible.
IP Blacklist Removal
IP blacklisting solutions – delisting, vulnerability patching, rehabilitation, and relaunch.
Database Repair
Backups for your data and database structures. Backups provided with DB tools and restorations.
Bruteforce Mitigation
Bruteforce attacks need the right response. We'll block their IP and protect your apps.
Email Errors Repaired
Don't go without email – let Digital Host repair your business mail, marketing list, or others aspects of business email.
Website Monitoring & Rescue
Our team monitor your sites 24/7, fixing PHP errors, DB errors, and more, to keep you on track
Powerful Disaster Recovery
Maintain business continuity, with full or partial server restoration should something go wrong
Why Digital Host
Speed, Reliability,Support and Security separates us from other web hosts.
Speed
Digital Host Enterprise grade servers and state of the art network infrastructure allows us to deliver high performance consistently
Reliability
Our server and network infrastructure is built with reliability and redundancy at every level. Our core network is built from scratch with leading DELL enterprise servers
Support
Our dedicated, proactive and high skilled customer support team helps us minimise downtime and resolve any server or network issue promptly
Security
Security by design is the key to offering peace of mind to our customers, We focus on security at every level right from network, server and application
Phone
Call 1300 421 600, +61 2 8294 6688 to speak to digital host support advisor!
Submit a Ticket
Facing a problem? Log a ticket with the support team right away!
Live Chat
Have a Query? Start a Chat Session with our experts Now!